In celebration of the latest release in the Lords of The Underworld we are giving away a huge prize. You want to know what it is? Curious?
Well read on and see I can guarantee you its really awesome!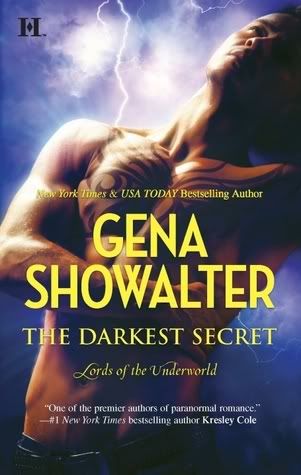 The Darkest Secret Website
Where You Can Find Gena
Website
Blog
Twitter
In this sexy new installment of New York Times and USA TODAY bestselling author Gena Showalter's Lords of the Underworld series, the haunted Amun meets a woman who tempts him like no other.
Keeper of the demon of Secrets, Amun can manipulate the darkest thoughts of anyone nearby. But when the immortal warrior is chained and isolated to protect those he loves, death is his only hope of release—until he meets Haidee, a fellow prisoner whose beauty and hidden vulnerability draw him into a reckless test of his loyalty.
Haidee is a demon-assassin, raised to despise Amun's kind. Yet how can she hate the man whose touch sets her aflame? But to save him, she must give herself body and soul…and face the wrath of a powerful adversary sworn to destroy her.
Now on to the giveaway, One Winner will receive A complete signed series of all Lords of the Underworld books to date!
All you have to do is comment and Answer who is your favorite Lord? or if you haven't read this series why would you want too .
Don't forget to leave your email addy or let me know I can get it in profile. I need to be able to contact you.
The contest is going to run from April 4th to April 18th, I will then announce the winner on April 19th.
Giveaway is sponsored by Harlequin and open to addresses in the U.S. and Canada.
A Big Thank you to Harlequin and Chelsy at Big Honcho Media for sponsoring this giveaway