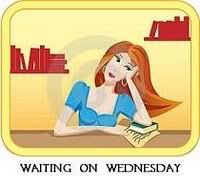 Waiting on Wednesday is a weekly meme hosted by
Breaking The Spine
That spotlights upcoming releases we are eagerly anticipating.
* * *

I have yet to start the Chicagoland Vampire Series, but I will be, this coming Monday as part of a group read on BLH's Goodreads group. With all the good things I've heard about this series, I just know I'm going to be happy with it. This book, Hard Bitten and my selection for this WOW, is the 5th installment in the series and it goes something like this:
* * *

"Times are hard for newly minted vampire Merit. Ever since shapeshifters announced their presence to the world, humans have been rallying against supernaturals-and they're camping outside of Cadogan House with protest signs that could turn to pitchforks at any moment. Inside its doors, things between Merit and her Master, green-eyed heartbreaker Ethan Sullivan are...tense. But then the mayor of Chicago calls Merit and Ethan to a clandestine meeting and tells them about a violent vamp attack that has left three women missing. His message is simple: get your House in order. Or else.
Merit needs to get to the bottom of this crime, but it doesn't help that she can't tell who's on her side. So she secretly calls in a favor from someone who's tall, dark, and part of underground vamp group that may have some deep intel on the attack. Merit soon finds herself in the heady, dark heart of Chicago's supernatural society-a world full of vampires who seem ready to fulfill the protesting human's worst fears, and a place where she'll learn that you can't be a vampire without getting a little blood on your hands... "
* * *

I won't be back until Saturday so until then, I hope you all have a fabulous week!
Kelly
for Book Lover's Hideaway