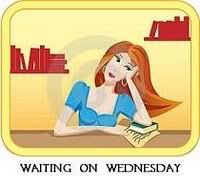 Waiting on Wednesday is a weekly meme hosted by Breaking The Spine That spotlights upcoming releases we are eagerly anticipating.
* * *

Well, loyal blog followers, you are going to start throwing darts at Donna and I. We are both HUGE Stacey Kennedy fans (but I'm the BEST fan no matter WHAT Donna tells you) and both of us just can't seem to stop talking about her. I am a lucky dawg cuz I actually WON an ARC of Tainted Blood and, Donna, cover your eyes!, I also won an autographed bookmark, postcard thing. YES I DID! So I am very anxious for Tainted Blood to come out which I think is any day now? I'm not really sure to be honest. I'm gonna hug my e-reader close to my heart when I get it.
I don't know much about this book. I don't care. It's by Stacey Kennedy. :) But, it's the first book in the Dark Element series. ::shiver:: I can't wait. Just can't wait. See Donna sitting over there in the corner green with envy??? muwahahahahhaha!!!! :)
What are you waiting on??? Hmmmm????
Kelly
for Book Lover's Hideaway
This work is licensed under a
Creative Commons Attribution-NonCommercial-NoDerivs 3.0 Unported License
.